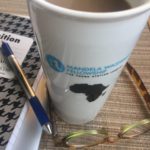 Last week I spent time with participants in the Mandela Washington Fellowship for Young African Leaders program.  I was asked to share my thoughts on "sustaining your vision."  The timing of the ask and the topic were perfect.  For about a month, my subconscious thoughts centered around the meaning of and the future of the "sisterintheshadow."  The invitation to share my story and my journey as a writer and storyteller was an honor.  It was an honor because time is a valuable commodity and I had been included in a very busy schedule of inspired African young leaders.  The goal was to share a message that would encourage, educate, and enlighten young entrepreneurs to keep their visions alive.
I think we were all born with the ability to dream.  However, somewhere along the way, likely due to external influences, many folks elect comfort, compromise, and/or complacency.  Choosing to dream means setting your sights on something that might only be seen by the dreamer.  Choosing to dream means believing in the possibility that the thing you see can bless others by meeting a need in the targeted community.  The fellows inspired me to remember how my global young adult dream of "saving the world" became a vision to empower villages to build supportive communities for young people. Regardless of the discipline, the dreamers must work to sustain their visions.  Here was my advice:
1. Don't forget why you are passionate about the thing you are doing. I speak because I remember feeling that nobody could see me when I was a child living in the shadows. In my existence in the shadows I felt that nobody cared to hear me either.
2. Don't forget the foundational principles upon which you rely in your personal life that have application in your vision life. I have three principles:
a. The African proverb that "It takes a village to raise a child."
b. "Work every day to make somebody's world better." A statement inspired by a conversation           with my father.
c. "Leave it better than you found it" was my mother's rule.
3.  Don't forget that everyone will not share your vision. Become fine with that reality as long as your target audience finds your vision and delivery relevant and a valued resource.
4.  Don't miss opportunities to build your network. Save names, contact information, websites, and areas of expertise for those you meet.
5.  Don't let your dream or vision be stunted by your lack of flexibility.
6.  Don't leave your mentors and partners out of the plans for personal and professional development, especially if you are experiencing challenges in either area, or both areas.
7.  Don't forget the lessons of one of my closest friends (who also happens to be a mentor):
a. Be comfortable with never being caught up or ahead. AND
b. Remember that even moving slowly is progress.