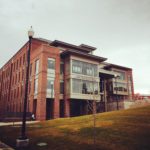 Sometimes the things that you think are going to cause you to stumble may propel you forward.  Four of five evenings last week I committed myself to attend events on campus.  While each event was very different from the others, my purpose was to support students.  I also knew that three of the events would afford me the opportunity to interact with students in at least three different demographic student groups on our campus – international students, fraternity and sorority life, and students from the residence halls. 
Contrary to what some students believe, I do not spend my free time trolling them.  I am concerned about their individual and collective strides toward academic success, physical and mental well-being, and safety.  Sometimes it feels like I melt into the woodwork of the historic building on the south side of campus right after new student orientation ends each summer.  I feel like I adopt the persona of a fictitious character who is characterized by students as a person half tin man, half wizard from that imaginary land in Dorothy's dream.  As the leader of the conduct office, I often say that I run a triage.  Life in a triage can be hectic, chaotic, unpredictable, and complicated.  I spend most days directing traffic and putting out fires.  Although my leadership role provides ample opportunity to help students and other campus partners sort through behavioral concerns, I often miss the chance to interact with students outside of my office or students not connected to the issues that connected them to my office.  There are many times that I feel that the students and others in the community are fine to just distance themselves from me because of the nature of my job.  When I speak to college students who either choose to lead or who find that their peers want them as leaders, I tell them several things that I have learned from leading.  While leadership is tough and lonely, it  can also be exhilarating, exciting, and gratifying.  It is tough to know that your decision will likely change the course of the life of a student or student group.  It is tough to hear the details of some of the things that trouble people on the campus.  It's even tough some days to separate from the things I hear or see during the course of a day.  It is also very cool when a student says something like, "As much as I didn't like being held accountable for what I did, your office is 'hella cool!"
I don't remember which student called my office "hella cool" a couple of years ago, but I learned from that student the value of being relatable to those I serve.  As a result of that lesson from a student, I said yes to opportunities to be in the presence of students in places designed for them last week.  I left the security of my Lake Level campus home.  Honestly, I shook my head at myself for saying yes to four nights of events after long work days.  One night I would be an audience member listening to view points of international students.  Two nights I would be a judge and the last night a mistress of ceremonies for an event.  I worried that the students would not receive me well.  I wondered if students ever imagine that the conduct lady even cares about their thoughts or feelings.  The truth is that I care about understanding them, the culture of the community, and how to create and implement programs and educational opportunities to help them develop life skills for campus living and for life beyond the college bubble.  I consider myself a thread in a safety net on the campus cast to brace them if they fall while learning how to be grownups. 
I am driven by my passion to save kids from themselves. I am driven by my passion to build healthy, supportive villages around young people to guide them personally and professionally.  I guess I am passionate about teaching people the benefit of time spent learning from other people.  In the leadership community, these cool experiences are referred to as mentor-mentee relationships.  Mentor-mentee relationships are excellent tools for learning and relationship building.  This week I remembered that the mentor can learn from the mentee.  This week taught me that the mentor can learn from the teaching moments crafted specifically for the mentee.  My mentees made me a better leader.
I want to encourage leaders to let others see and feel their passion for the work they do.  I want leaders to lead with their minds open to hear the comments of those who benefit from their service.  Leaders must remember that they are serving others even if they are entrusted with some authority to make decisions.  When great leaders lead, the conversation and the focus is more about the plans to improve the station of those they serve than about them.  When great leaders lead, they move with urgency and intensity in a direction that takes everyone closer to the goal.  Recently, in a yoga class the teacher lead us into the "humble warrior" pose.  Immediately, I thought about the seemingly diametrically opposite words that describe many of the most favored leaders – humble and warrior.  Great leaders temper their pride and ego-centered thoughts with the humble attitude of a servant.  Great leaders, like warriors, prepare, plan, and pursue the missions and objectives with a passionate pursuit of excellence. 
Last week I stepped out of my comfort zone and sacrificed some free time to hang out with students in spaces designed with their input and for their enjoyment.  Often young people spend their time concerned about how they will be perceived and considering how they will fit in at the places they choose to go.  I found myself every might having the same concerns.  My hope is that more leaders will go into spaces that make them a little uncomfortable and permit themselves to relax into the environment and experience the people they serve in a way they may not have experienced in the past.  I learned something at every event.  I met new people and forged new relationships with students, campus partners, and members of the University alumni counsel.  I danced.  I sang.  I ate sweet treats and good food.  I got to do life with the people who matter.  I go to do life with the students who are the reason that I do the things I do.